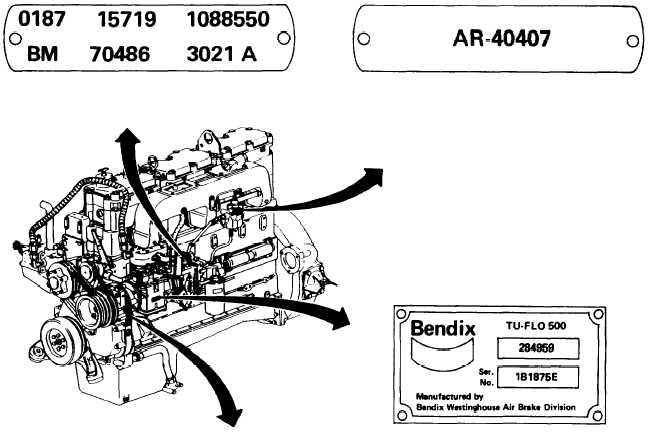 TM   5-2815-241-34&P
LOCATION  AND  DESCRIPTION  OF  IDENTIFICATION  PLATES
The  following  illustrations  show  the  location  of  identification  instruction  and  data  plates  on  the  NTC  290
diesel engine. These views are provided to show where each plate is located.
•
•
Ref.  No.  522815-C91
Model  NTC-290
Date   of   Delivery
Identification
092
0187
Valve lash cold .011 Int .023
Exh.
Engine   Exhaust   Emission   Control   Information:   This
engine   conforms   to   U.S.   Environmental   Protection
Agency   regulations   applicable   to   1975   model-year
Cont.  No.  D092083  BX01
So.  No.  15719
lnitial  injection  timing  code
A8
heavy duty diesel engines.
Engine  No.  10437196
Date   of   manufacture
3-75
Injector   travel   .170   Inch
WARNING:      Injury   may   result   and   warranty   is   voided
Manufactured   by   Cummins   Engine   Company,   Inc.,   U.S.A.
3002256
Injector   torque
Inch  -  Lbs.
if  fuel  rate,  RPM  or  altitudes  exceed  published  maximum
valves   for   this   model   and   application.
Family
CPL
Fuel  rate  at  advertised  HP  158mm 3  /stroke
engine   conforms   to   California   regulation   applicable
to   1975   model-year   heavy   duty   diesel   engines.
Advertised HP290 at 2100 RPM
Engine    Exhaust    Emission    Control    Information:        This
•
•
TA   242337
1-8