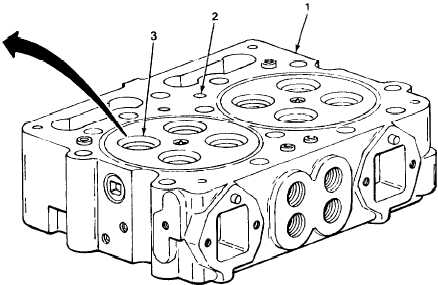 TM   5-2815-241-34&P
CYLINDER  HEAD  -  CONTINUED
ACTION
LOCATION
ITEM
REMARKS
9.

Cylinder head (1)
Valve  seat
insert  (3)
Using  plastic-faced  hammer,  carefully  tap
cylinder  head  around  valve  seat  insert.
If valve seat insert bounces, tag
for replacement. See steps 26
thru 34.
10.

Valve seat
insert  (3)
Valve  seat  width  (4)
Using  steel  machinist's  rule,  measure
width.
If width (4) exceeds 0.125 inch
(3.18 mm) at any one point, and
cannot be narrowed to between 2/32
and  4/32-inch  (1.66  to  3.18  mm)
during  regrind,  tag  valve  seat  for
replacement.  See  steps  28  thru  34.
T A    2 4 2 4 5 4
2-181