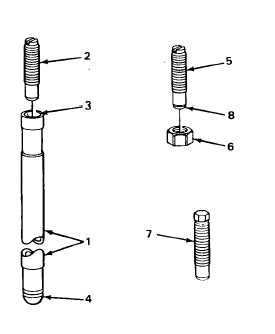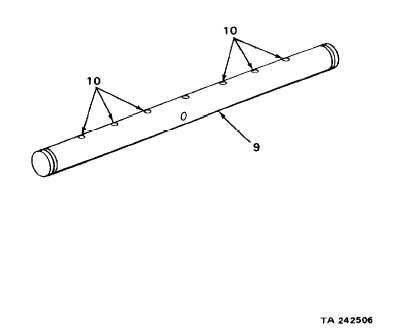 TM   5-2815-241-34&P
ROCKER  ARM  HOUSING  AND  PUSH  ROD  -  CONTINUED
ACTION
LOCATION
ITEM
REMARKS
19.
Six  adjusting
screws  (5)
Using 1/4-inch radius gage, check ball
end  (8)  for  flat  spots  and  roundness.
If  out-of-round,  or  flat  spots  are
noticed,   replace.
WARNING
Drycleaning solvent P-D-680 is toxic and flammable. Wear safety goggles and gloves
and use only in a well-ventilated area. Avoid contact with skin, eyes, and clothes, and
do not breathe vapors. Do not use near open flame or excessive heat. Flashpoint for
type  #1  drycleaning  solvent  is  100°F  (38°C)  and  for  type  #2  is  138°F  (59°C).  If  you
become dizzy while using solvent, get fresh air immediately, and get medical aid. If
contact with eyes is made, wash your eyes with water, and get medical aid immediately.
Failure to observe these precautions could cause serious injury or death to personnel.
20.
Rocker  arm  shaft  (9)
a.
Using  drycleaning  solvent,  clean  oil
passages   (10).
b.
Using  a  1-  to  2-inch  micrometer,
measure outside diameter at several
points  for  wear.  Visually  inspect  for
scratches.
If  scratched,  or  outside  diameter  is
less  than  1.122  inch  (28.50  mm),
replace.
2-249