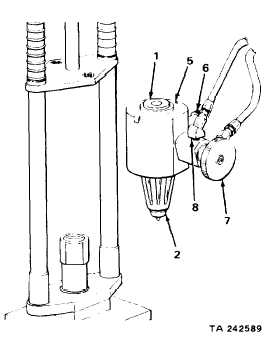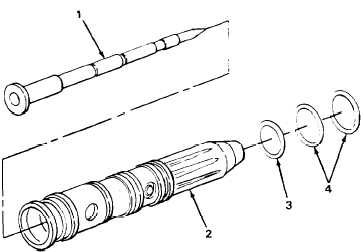 73.
74.
75.
77.
TM  5-2815-241-34&P
FUEL INJECTOR - CONTINUED
ACTION
LOCATION
ITEM
REMARKS
TESTING -   CONTINUED
NOTE
Perform  steps  73  thru  83  to  test  check  ball  seating.
Plunger  (1)
Preformed  packing
(3) and two
gaskets  (4)
Place in injector (2) without spring.
Place on injector.
ST-708  burnishing
tool  adapter  (5)
Lubricate  inside  with  fuel  oil.
CAUTION
Injector inlet port and ST-708 burnishing tool adapter inlet hole must be alined to prevent
damage  to  the  burnishing  tool  point,  when  installed  later.
76.
Injector  (2)
a.
Position in ST-708 burnishing tool
adapter (5) so that injector inlet port and
adapter  inlet  holes  aline.
b.
Secure by tightening locating screw (6)
on   ST-708   burnishing   tool   adapter.
ST-790   injector   test
Connect to ST-708 burnishing tool adapter.
stand  inlet  line  (7)
and  drain  line  (8)
2-374