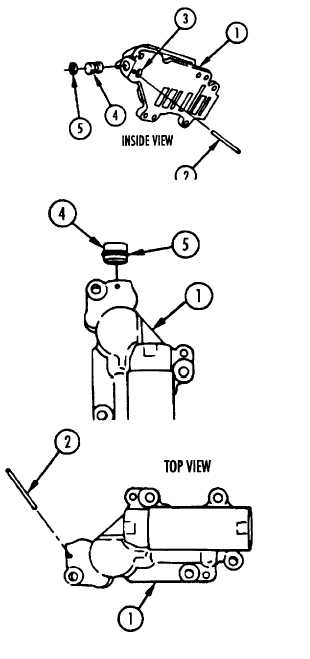 TM 9-2520-272-34&P
4-20.  
REPAIR RIGHT END COVER COMPONENTS  TM 9-2520-272-34&P
(SHEET 2 OF 14)
3    Turn valve body (1) over, inside up.
4    Insert tip of screwdriver in hole (3)  and  pry  plug
(4) from body.
5    Remove packing (5) from plug (4).
Assemble  Brake  Apply  Regulator  Valve  Body  (X200-4
Only)
6
Install new packing (5) on plug (4).
7
Apply petrolatum to packing (5)
8
Place body (1) on table, plug port end up.
9
Place plug (4) over bore in body (1), chamfered
end of plug in first.
10    Install  plug  (4)  and  packing  (5)  against  seat  in
body    (1).        Tap    plug    lightly    with    hammer    if
necessary.
11    Place valve body (1) on table, outside up.
12    Using hammer  and  punch,  install  new  pin  (2)  in
body  (1).    Seat  pin  flush  to  0.020  inch  (0.508
mm) below flat inside surface of body.
FOLLOW-ON PROCEDURE:
Install  brake  apply  regulator  valve  components.
Refer to paragraph 4-21.
End of Task 1
TASK  2.    REPAIR  INNER  BRAKE  ADJUSTING  LINK
ASSEMBLY
NOTE
Do not remove inner brake adjusting link
pin unless repair is necessary.
COMMON TOOLS:
Gage, vernier caliper
Hammer, hand, ball peen
Punch, center
Vise, soft jaw
REPAIR PARTS:
Pin, spring (24617) 455675
Go to Sheet 3
Para 4-20, Task 2
Change 2  4-113