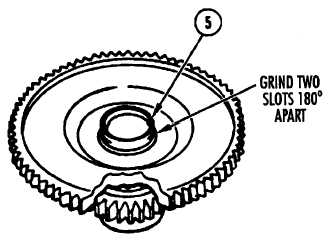 TM 9-2520-272-34&P
4-8.        REMOVE    LEFT    END    COVER     ASSEMBLY
(SHEET 8 OF 10)
WARNING
Hot  parts  can  burn  you.    Always  wear
leather  gloves  when  working  with  parts
that are or could be hot.
CAUTION
Use  care  not  to  cut  into  gear  hub  when
using grinder to cut slots in bearing race.
3.
Using  grinder,  cut  two  slots  1800  apart  at  base
of  bearing  race  (5)  Cut  slots  deep  enough   to
catch the lip of the pry bar, but not deep enough
to cut through bearing race into gear hub.
4.
Using  two  heat  guns,  heat  bearing  race  (5)  for
15 minutes.
5.
Using  two  pry  bars  in  slots,  lift  up  bearing  race
(5).
CAUTION
Use care not to damage gear hub when using pry bars to remove race.
6.
After lifting bearing race, reposition two pry bars under bearing race (5) and remove race.
NOTE
Bearing  outer  race  and  rollers  that  match  race  (5)  remain  in  the  left  end  cover  assembly.    Refer  to
paragraph 4-23 to replace the outer race and rollers.
Go to Sheet 9
4-32  Change 2
Para.  4-8, Task 4