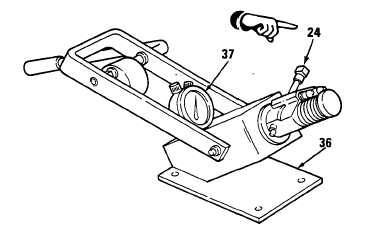 TM9-2815-202-34
4-40.   FUEL   INJECTOR   ASSEMBLY   REPAIR   (Cont)
f.   Testing
NOTE
Injectors  that  were  disassembled
must  pass  all  tests  outlined  below
prior to installation in engine.
Injectors  which  were  removed  from
engine should be checked prior to
any  disassembly  to  avoid
unnecessary repair.
(1) Injector control rack freeness
(a)
(b)
(c)
(d)
(e)
Place injector in fixture (36).
Hold injector control rack (24) in
NO FUEL position. (Rack all the
way  extended).
Using  handle,  depress  follower  to
bottom  of  its  stroke.
Slowly release pressure on
handle while moving control rack
in and out until follower reaches
top of its travel. Injector passes
test  if  rack  falls  freely.
If rack binds, loosen injector nut,
turn tip, and then torque nut to
80 Ib-ft (108 N-m) for  blued
components, 50 Ib-ft (68 N-m)
for nonblued components, or 65
Ib-ft (88 N-m) for mixed
components.  Loosen  and  torque
nut a couple of times if
necessary. If rack still binds,
change injector nut. Finally, if
rack  binds,  disassemble  injector
to eliminate cause of misaligned
parts or to remove dirt.
(2) Spray tip concentricity
(a)
(b)
(c)
(d)
Place  injector  in  fixture  (36).
Adjust  dial  indicator  (37)  to  zero.
Rotate  injector  360  degrees  and  note  total  runout  as  indicated  on  dial.
If total runout exceeds 0.008 inch, remove injector from fixture. Loosen injector nut,
center spray tip, and retorque nut. Recheck sprav tip concentricity. If, after several
attempts,  spray  tip  cannot  be  positioned  satisfactorily,  replace  injector  nut.
4-232
Change 1