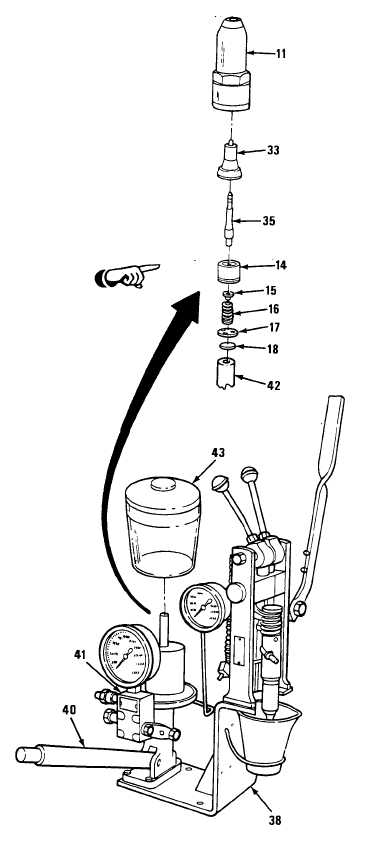 TM    9-2815-202-34
4-40.  FUEL  INJECTOR  ASSEMBLY  REPAIR  (Cont)
NOTE
If needle valve opening
pressure check was previously
preformed, bypass this step.
(5)  Needle  Valve  Opening  Pressure
(a)
(b)
(c)
(d)
(e)
(f)
(9)
(h)
Operate pump handle  

(40)

on diesel
fuel injector nozzle tester (41) until a
clear flow of test oil comes out of
mounting pedestal (42).
Place check valve (18) centrally on
pedestal  (42).
Place check valve cage (17), flat side
up, and check valve (18) on pedestal
(42) with check valve in recess of check
valve  cage.
Insert spring seat (15) in valve spring
(16) and install on check valve cage
(17) with seat up.
Place spring cage (14) over spring seat
(15) and spring (16).
Insert needle valve (35) into spray tip
(33) with tapered end down. Place
assembly on spring cage (14) with quill
end of needle valve in hole in spring
cage.
Lubricate threads on injector nut (11)
with engine oil and carefully thread nut
on pedestal (42). Tighten nut as tight as
possible by hand.
Using injector nut socket, torque injector
nut (11) to 75-85 Ib-ft (102-115 N-m) for
blued components, 45-55 Ib-ft (61-75
N-m) for steel gray components, or
60-70 Ib-ft (81-95 N-m) for mixed
components.
4-234
Change  1