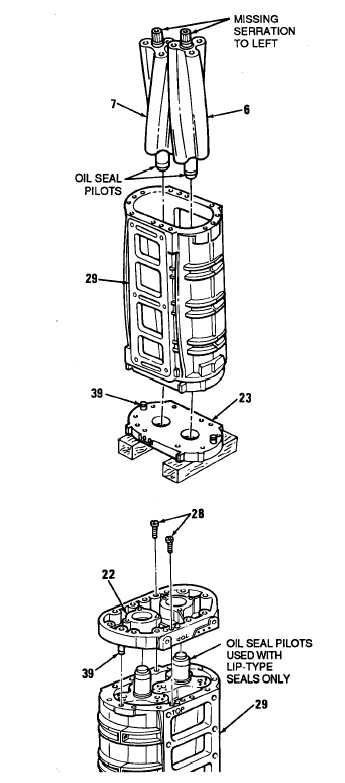 TM  9-2815-202-34
4-41.  BLOWER  REPAIR  (Cont)
(17)
(18)
NOTE
Top of front end pIate is identified
by three bolt holes and one oil
hole. Bottom of end plate has
three bolt holes and three oil
holes.  Dowel  pins  extend  from
both sides of front end plate.
The  horizontal  oil  passage  in  top
of front end plate intersecting the
vertical  oil  passages  is  plugged.
Do not install this end plate on
rear of blower housing.
Mating  surfaces  between  blower
end plates and blower housing
must be flat and smooth. No
gasket is used.
Apply  light  coating  of  Form-A-Gasket
sealant to mating surfaces of end
plate and blower housing. Sealant
must  not  protrude  into  housing.
Position front end plate (23) on two
wood  blocks,  finished  side  up.  Install
(19)
(20)
(21)
(22)
4-242
blower  housing  (29),  with  match
marks alined, on two dowel pins (39).
NOTE
Right hand helix rotor is marked
"GEAR END" on one end. Gear end
of left hand rotor has serrated shaft.
Place rotors (6 and 7) in mesh with
missing teeth in rotor shafts in
position and facing to left as viewed
from gear end.
For  replacement  lip-type  oil  seal  set
only,  install  two  oversized  oil  seal
pilots over underrated end of each
shaft of rotors (6 and 7).
Insert rotors (6 and 7) straight into housing (29) and through bores of front blower end plate
(25). If installed, remove oversized oil seal pilots.
For replacement lip-type seal set only, install two oversized oil seal pilots over serrated end
of each shaft of rotors (6 and 7).