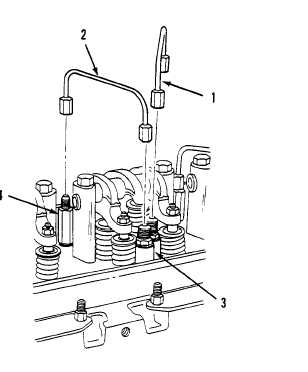 TM   9-2815-202-34
CAUTION
•

Do not bend fuel lines and do not
exceed specified torque on fuel
line nuts. Excessive  tightening  will
twist or fracture flared end of fuel
line and result in leaks.
•

Never reuse fuel lines regardless
of their appearance. Always use
new fuel lines. Reused fuel lines
may not seal properly and result in
leaks.
(33)  Remove  caps  from  fuel  injectors  (3)  and
connect four inlet fuel lines (1) and four
outlet fuel lines (2) to injectors and fuel
connectors (4). Using special socket,
torque fuel lines to 130-160 lb-in (14.7 -18.3
N-m).
END OF TASK
FOLLOW-ON  MAINTENANCE
Para  Description
5-6 Install water manifolds (7083-7396 and 7083-7399)
5.1-6  Install  water  manifolds  (7083-7391)
5-5  Install  lifting  brackets
4-27 Install cylinder head
5.1-8 Install glow plugs (7083-7391)
5-38.

OIL  COOLER  ASSEMBLY  REPAIR
5-39.

FUEL  INJECTOR  ASSEMBLY  REPAIR
5-40.  

BLOWER   REPAIR
(See Para 4-39)
(See Para 4-40)
(See Para 4-41)
C h a n g e   

1
5-64.1