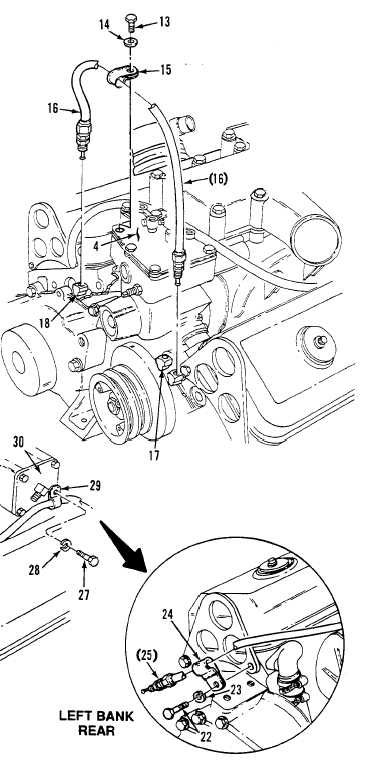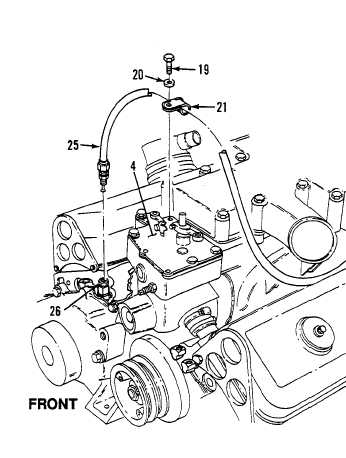 TM 9-2815-202-34
(6) Disconnect fuel crossover line (16) at
outboard elbow (17) on front of left
cylinder head and at outboard elbow
(18) on front of right cylinder. Remove
fuel  crossover  line.
(7) Remove bolt (19) and flat washer (20)
attaching fuel return line clip (21) to
rear of governor cover (4). Reinstall bolt
and flat washer in governor cover.
(8) Remove bolt (22) and Iockwasher (23)
securing fuel return clamp (24) to
engine lifting bracket at rear of left
cylinder head. Reinstall bolt and
Iockwasher  in  lifting  bracket.
(9)
(10)
(11)
Disconnect fuel return line (25) at adaptor fitting (26) on front of right cylinder head. Remove
fuel  return  line.
Remove bolt (27) and Iockwasher (28) securing clip (29) on fuel return line (25) to left side
by-pass valve cover (30). Remove fuel return line and reinstall bolt and Iockwasher.
If necessary, remove clamp (24) and clips (21 and 29) from fuel return line (25).
C  h  a  n  g  e       1 

5 - 79