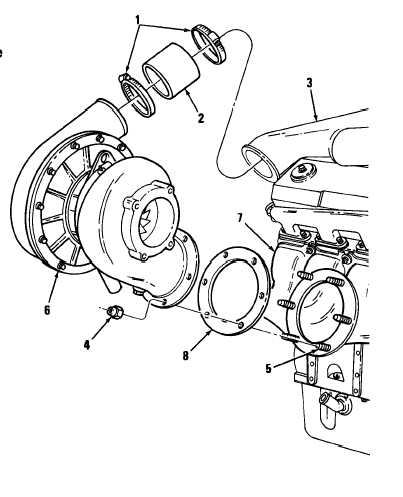 TM9-2815-202-34
7-3.   TURBOCHARGER   REMOVAL/lNSTALLATION
This  task  covers:
a.  Removal
b.  Inspection
c.  Installation
INITIAL   SETUP
MODELS
EQUIPMENT    CONDITION
7083-7399
Para   Description
3-10 Turbocharger oil return line removed
3-13 Turbocharger oil supply line removed
TOOLS  AND  SPECIAL  TOOLS
3-15 Air inlet manifold removed
6-2
Regulator air line removed
General mechanics tool kit (App B, Item 96)
Torque wrench (App B, Item 101)
PERSONNEL REQUIRED: 2
MANDATORY  REPLACEMENT  PARTS
6 Locking nuts (App F, Item 104)
1 Gasket (App F, Item 40)
a.  Removal
(1) Loosen two clamps (1) and slide hose
(2) and clamps onto air inlet housing
(3).
(2) Remove six locking nuts (4) from
exhaust  manifold  studs  (5)  securing
turbocharger  (6)  to  exhaust  manifold
(7).  Discard  locking  nuts.
WARNING
Engine  components  are  heavy.
To  prevent  personal  injury,
use  extreme  caution  when
removing  large  components
from  engine.
7-3