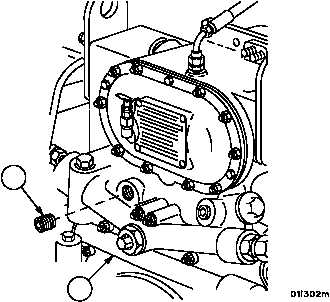 TM 9--2815--247--34
0016 00--1
INDUCTION LEAK TEST
0016 00
THIS WORK PACKAGE COVERS:
Test
INITIAL SETUP:
Tools and Special Tools
General mechanic's tool kit (item 19, WP 0103 00)
Regulator assembly
(item 84, WP 0103 00)
Turbocharger covers
(item 10, WP 0104 00)
Manometer (item 89, WP 0103 00)
Materials/Parts
Pipe plug (item 101, WP 0102 00)
Equipment Conditions
Engine level on flat surface (WP 0021 00)
References
TM 9--2350--292--20
Test
CAUTION
Left and right banks must be tested separately and en-
gine front and rear vents must be open.
NOTE
Procedure is the same for each bank of the engine.
1.   Remove pipe plug (1) from the damper housing (2) to vent the front of the engine.
Figure 12
1
2