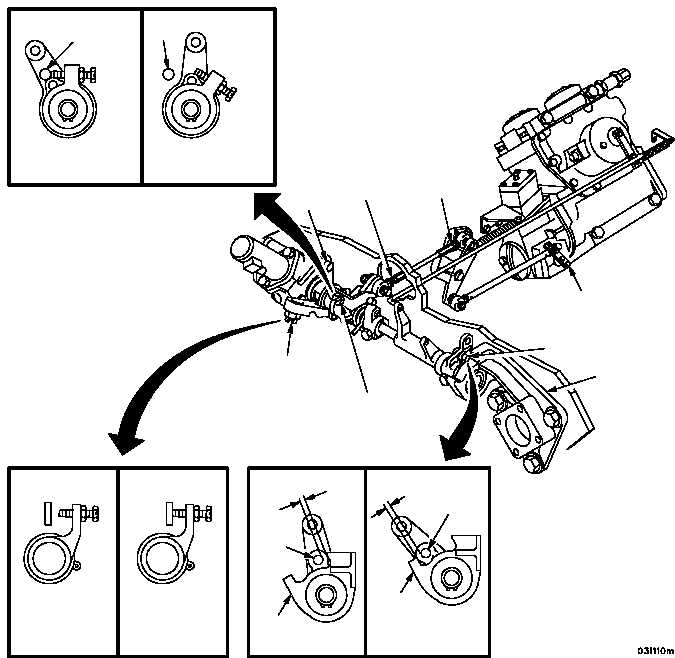 TM 9--2815--247--34
0019 00--6
ENGINE RUN--IN -- CONTINUED
0019 00
Final Test
Start engine and check all items vital to safe engine operation, such as fuel lines, oil lines, oil pressure, throttle con-
trol, mounting bolts, couplings, thermocouple harness, etc.
Adjust for idle at 825--875 rpm by turning idle adjusting screw. Loosen locknut on idle adjusting screw and turn
screw clockwise to increase idle speed, and counterclockwise to decrease speed. Tighten locknut. Allow engine to
run for 15--20 minutes at 825--875 rpm. Check for unusual noises in the engine and generator which might indicate
malfunction or lack of lubrication.
Figure 47
IDLE
POSITION
FULL
THROTTLE
POSITION
STOP
PIN
STOP
PIN
SOLENOID
SPEED
CONTROL
POSITION
IDLE
POSITION
FULL
THROTTLE
POSITION
3/16 IN. MIN
3/8 IN. NOMINAL
STOP
PIN
RIGHT
HAND
THREAD
LEFT
HAND
THREAD
STOP
PIN
SOLENOID
SPEED
CONTROL
IDLE
POSITION
THROTTLE
OPERATING
LEVER
STOP
PIN
STOP
PIN
SOLENOID SPEED
CONTROL SCREW
IDLE
ADJUSTING
SCREW
BRACKET
BRACKET
BRACKET
FULL THROTTLE