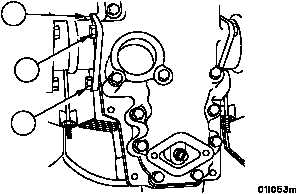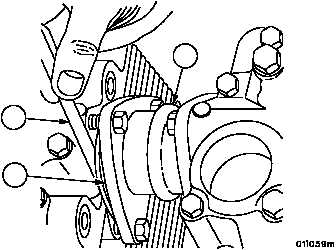 TM 9--2815--247--34
0026 00--2
ROCKER ARM COVER ASSEMBLY REPLACEMENT -- CONTINUED
0026 00
Removal -- Continued
NOTE
Steps 3 and 4 apply to both sides of covers on cylinders
2L, 3L, 4L, 5L, 2R, 3R, 4R, and 5R. Steps 3 and 4 apply
to only one side of cylinders 1L, 6L,
1R, and 6R.
3.   Remove screw (6) and loosen two screws (7).
Figure 10
7
6
7
CAUTION
Do not damage sealing surface on flange of inter-- cylin-
der sleeve, as it will cause leaks and the replacement of
the sleeve will be required.
4.   Separate camshaft flange (8) and, using a piece of shim stock (9), loosen inter--cylinder sleeve (10).
Figure 10
8
9
10