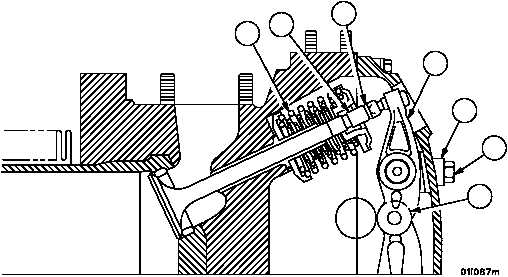 TM 9--2815--247--34
0026 00--6
ROCKER ARM COVER ASSEMBLY REPLACEMENT -- CONTINUED
0026 00
Removal -- Continued
14. Release the tension on valve rocker arms (30) and valve springs (31) by turning engine until rocker arm rollers
(32) are on camshaft base circle, or valves are closed.
15. Check rocker arms (30) to see that they move up and down. If movement (clearance) cannot be felt, turn engine
until clearance is evident.
16. When clearance is obtained between both adjusting screw pads (33) and valve stem (34), rocker arm rollers (32)
are on camshaft base circle, and valves are completely closed.
17. Remove four screws (35) and four preformed packings with retainers (36). Discard preformed packings with re-
tainers.
Figure 9
EXHAUST
PORT
31
34
33
30
36
35
32