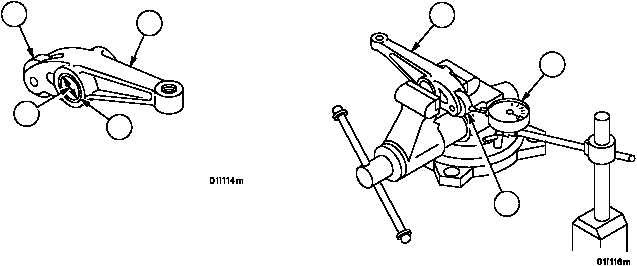 TM 9--2815--247--34
0027 00--4
ROCKER ARM COVER ASSEMBLY REPAIR -- CONTINUED
0027 00
Inspection -- Continued
7.   Inspect the bearing sleeve (10) in the rocker arm (8) for scoring or looseness. Replace loose or scored bearing
sleeves. Refer to WP 0012 00
8.   Measure the diameter of bearing sleeve (10). Replace bearing sleeves that do not meet the following limits.
Refer to WP 0012 00.
REF NO.
POINT OF MEASUREMENT
SIZES AND FITS OF NEW PARTS
inches (mm)
WEAR LIMITS
11
Inside diameter of sleeve in
rocker arm
0.7495 (19.0373)
0.7505 (19.0627)
0.7520 (19.1008)
9.   Inspect the rocker arm rollers (12) for scuff or score marks. Replace rocker arm if rollers are damaged.
10. Mount rocker arm (8) securely in a soft--jawed vise.
11. Set a dial indictor (13) against contact surface of roller (12) and move roller through extremes of its travel. Re-
place rocker arm if rollers do not meet the following limits.
REF NO.
POINT OF MEASUREMENT
SIZES AND FITS OF NEW PARTS
inches (mm)
WEAR LIMITS
12
Rocker arm roller radial clearance
0.0020L (0.0508)
0.0030L (0.0762)
0.0055L (0.1397)
Figure 9
12
8
10
11
13
12
8