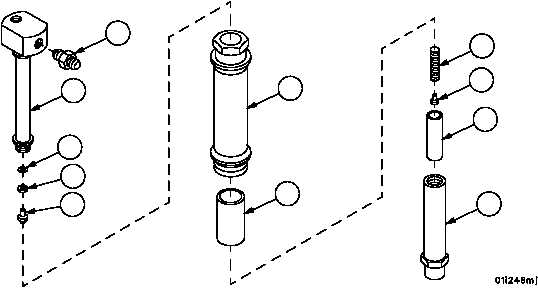 TM 9--2815--247--34
0036 00--11
FUEL INJECTOR NOZZLE AND HOLDER REPAIR -- CONTINUED
0036 00
Inspection -- Continued
8.   Inspect drilled passages in spacer (11) for obstructions.
9.   Inspect spring (24) for cracks and evidence of wear.
10. Inspect sleeve (23) for cracks, and for evidence of discoloration due to excessive heat.
11. Inspect nozzle and holder seat (29), seat (25), shims (30), and spacer ring (31) for cracks, scratches, and evi-
dence of pounding.
12. Inspect body (6) and retainer (2) for cracks, burrs, nicks, and raised metal. Inspect sealing surfaces for scratches
and discoloration. Inspect threaded areas and tapped openings for stripped or damaged threads.
13. Inspect nut (10) and fuel inlet stud (5) for nicks, burrs, raised metal surfaces, and cracks. Inspect threaded area
inside nut (10) for stripped or damaged threads. Inspect the gasket area on end of nut (10) for deep scratches.
Figure 34
5
6
2
11
10
24
23
29
25
30
31