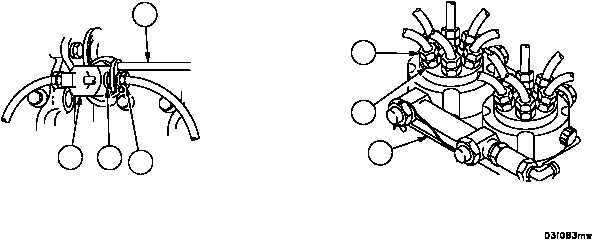 TM 9--2815--247--34
0037 00--20
FUEL INJECTOR TUBES, BRACKETS, AND ASSOCIATED PARTS --
CONTINUED
0037 00
Installation -- Continued
CAUTION
Adapter on fuel injector must be held in place when tight-
ening injector fuel line tube nuts. Failure to comply with
this caution will result in damage to fuel lines.
55. Tighten 12 tube adapters (51), using crowfoot attachment (50), to 300 lb--in (34 N

S

m) at the nozzle and holder
(49).
56. Tighten 24 tube nuts (47) to 125 lb--in (14 N

S

m) at the fuel injection pump (48) and at nozzle and holder (49).
57. Torque tighten all nozzle and holders (49). Refer to WP 0036 00.
CAUTION
Inspect all lines and clamps for 1/8 inch (3.175 mm) mini-
mum clearance with manifold, fan towers, and fan hubs.
Contact of fuel lines to each other is not permissible.
Figure 36
49
50
51
49
47
48
47