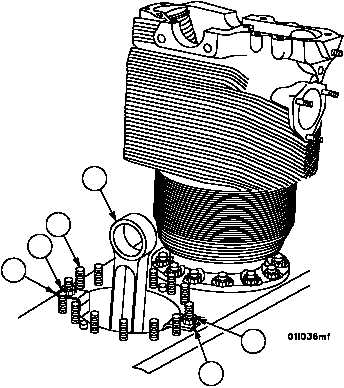 TM 9--2815--247--34
0059 00--8
CYLINDER HEAD ASSEMBLY REPLACEMENT -- CONTINUED
0059 00
Installation -- Continued
9.   Rotate engine crank until connecting rod (14) is at the top of its stroke.
CAUTION
Lubricant must extend across face of washer nut in order
to obtain reliable torque.
10. Sparingly coat cylinder stud threads (5) and cylinder base nuts (4) with lubricant.
11. Remove crankcase protectors (10) from cylinder mounting studs (5), being careful not to allow connecting rod (14)
to forcibly drop against the crankcase cylinder mounting surface or mounting studs.
Figure 5
14
5
4
4
10
10