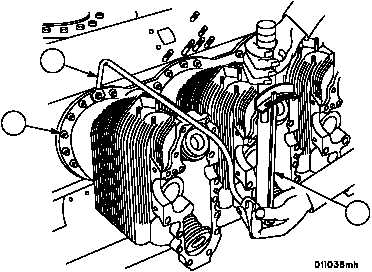 TM 9--2815--247--34
0059 00--10
CYLINDER HEAD ASSEMBLY REPLACEMENT -- CONTINUED
0059 00
Installation -- Continued
NOTE
When more than one cylinder head assembly is being
replaced, all cylinder head assemblies should be tempo-
rarily secured with two base nuts before continuing.
16. Install remaining base nuts (4).
NOTE
There are four different torque wrench adapters. Use the
adapter that gives the best clearance for each nut.
17. Using torque wrench (2) and adapter (3), torque cylinder base nuts (4) alternately to 103--105 lb--ft (140--142
N

S

m).
Figure 5
2
4
3
NOTE
FOLLOW--ON MAINTENANCE:
Install cylinder deflectors and shrouds (WP 0052 00)
Install aftercooler assemblies (WP 0033 00)
Install exhaust manifolds
For left bank (WP 0029 00)
For right bank (WP 0030 00)
Install camshaft assembly
For left bank (WP 0073 00)
For right bank (WP 0077 00)
END OF TASK