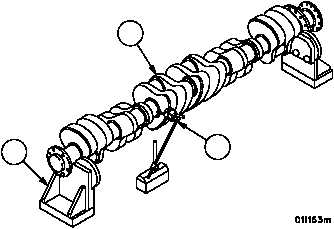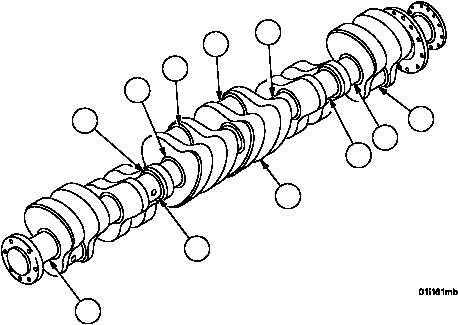 TM 9--2815--247--34
0064 00--11
ENGINE CRANKSHAFT REPAIR -- CONTINUED
0064 00
Inspection -- Continued
13. With crankshaft (14) on "V" blocks or suitable stand (26), supported on end journals, check the runout at main
journal No. 4 using a dial indicator (42). Replace crankshaft if runout is more than 0.025 inch (0.635 mm).
Figure 6
14
42
26
Repair
WARNING
Repair minor imperfections in crankshaft (14) journals by polishing with crocus cloth dipped in dry--cleaning
solvent. Replace crankshafts that are deeply scratched, nicked, burred, scuffed or galled.
Figure 6
14
30
32
32
32
30
32
41
37
38
40