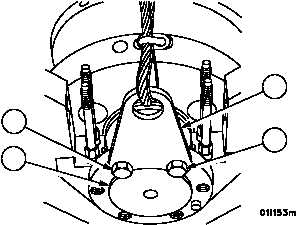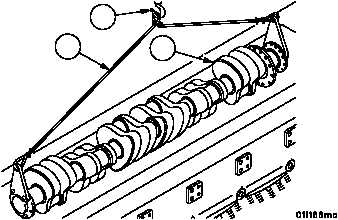 TM 9--2815--247--34
0064 00--14
ENGINE CRANKSHAFT REPAIR -- CONTINUED
0064 00
Installation -- Continued
5.   Install sling adapter (21) on damper flange (22) and secure with two damper mounting bolts (23).
Figure 71
21
23
23
22
WARNING
CAUTION
Exercise care when installing crankshaft to prevent damage to the
main bearing cap studs and crankshaft journals. Before installing
crankshaft, place cardboard or plastic tubes over main bearing
studs for protection. If such tubes are not available, cover studs
with industrial tape or damage could result.
6.   Attach sling (24) to hoist (25) and carefully lower crankshaft (14) into block.
7.   Remove sling (24) from hoist (25) and from crankshaft (14).
Figure 6
14
24
25