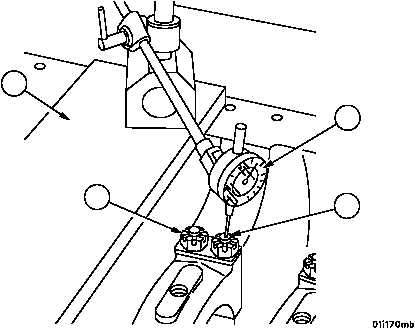 TM 9--2815--247--34
0064 00--20
ENGINE CRANKSHAFT REPAIR -- CONTINUED
0064 00
Installation -- Continued
24. Starting at No. 4 main thrust bearing, check and record the height of four studs (45) using a flat surface plate (46)
and dial indicator (42).
CAUTION
Do not disturb indicator setting or position, as it will be
needed for checking stud stretch later. Incorrect mea-
surement may result if indicator setting is changed--which
may result in premature failure of engine parts.
25. Alternately torque four slotted nuts (6) to 41 lb--ft (55.5 N

S

m), then following the same sequence, torque four
slotted nuts (6) to 58--69 lb--ft (78.6--93.5 N

S

m).
Figure 2
46
6
42
45