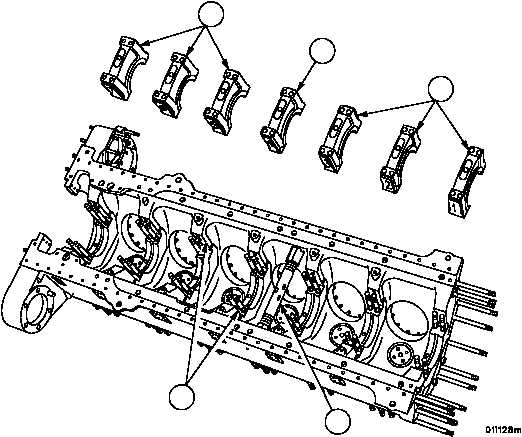 TM 9--2815--247--34
0067 00--5
CRANKSHAFT BEARINGS AND ASSOCIATED PARTS REPLACEMENT --
CONTINUED
0067 00
Inspection -- Continued
7.   Coat outer edges of bearing caps (10 and 11), and machined surfaces of block webs (12) with lubricant (item 14,
WP 0100 00).
CAUTION
The main bearing caps and main bearing halves must be
installed in their original position according to location
number identification on the cap and bearing half. The
side of each main bearing cap identified as "fly end" must
be installed toward rear of block.
8.   Install seven main bearing caps (10 and 11) and bearing halves (5 and 7) in position on block studs. Use hand
jack screw (13) to spread block so bearing caps (10) will slide over studs and into position in the block.
9.   Remove hand jack screw (13).
Figure 2
10
10
11
12
13