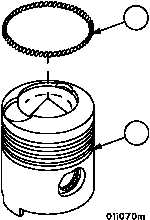 TM 9--2815--247--34
0069 00--2
PISTONS, RINGS, AND ASSOCIATED PARTS REPAIR -- CONTINUED
0069 00
Disassembly -- Continued
7.   Remove oil control piston ring expander (11) from piston (10) by separating at parting line of expander spring.
Figure 8
11
10
8.   Remove retaining rings (12) and piston pin (13).
9.   Mark piston pin (13) for identification showing piston (10) number.
Cleaning
WARNING
Use goggles, rubber gloves, and rubber apron when
cleaning parts in carbon--removing compound. Provide
adequate ventilation. Avoid inhalation of fumes and skin
contact. If compound is splashed on skin, flush with fresh
water and wash with alcohol. Alcohol containing 2 to 3
percent camphor is preferable.
1.   Clean pistons (10), piston pins (13), retaining rings (12), and rings (1, 2, 3, and 4) by soaking in carbon--removing
compound.
Figure 8
12
12
13
10
4
3
2
1