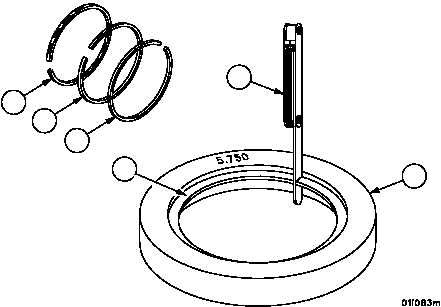 TM 9--2815--247--34
0069 00--8
PISTONS, RINGS, AND ASSOCIATED PARTS REPAIR -- CONTINUED
0069 00
Inspection -- Continued
12. Place each ring (1, 2, 3, or 4), one at a time into the appropriate ring gauge (23).
NOTE
Ring gauges are identified according to ring size. Some
gauges are duel purpose tools, i.e., each side for a differ-
ent size ring.
13. Measure end gap of each ring with thickness gauge (24). Replace rings that do not meet the following limits.
REF
NO.
POINT OF MEASUREMENT
SIZES AND FITS OF NEW PARTS
inches(mm)
WEAR
LIMITS
1
2
Gap clearance of top compression and
second groove ring when fitted in
gauge
0.0400 (1.016)
0.0500 (1.27)
None
3
Gap clearance of intermediate com-
pression ring when fitted in gauge
0.0300 (0.762)
0.0400 (1.016)
None
4
Gap clearance of oil control ring when
fitted in gauge
0.0200 (0.508)
0.0400 (1.016)
None
Figure 8
23
4
3
2
1
24