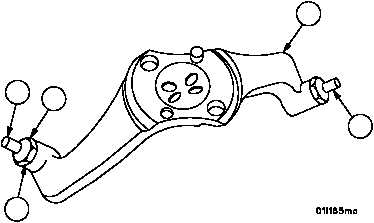 TM 9--2815--247--34
0071 00--2
LUBRICATING NOZZLE ASSEMBLY REPAIR -- CONTINUED
0071 00
Repair
NOTE
Do not remove nozzles unless the nozzle or piston oil
sprayer cannot be cleaned without disassembly.
The piston oil sprayer assembly has two nozzles. The
following procedures will apply to one or both.
1.   Make sure oil passages in piston oil sprayer (5) and oil holes in nozzles (6) are clean and free of obstructions.
Replace piston oil sprayer or nozzles when they cannot be cleared of obstructions.
2.   To remove nozzles (6), position piston oil sprayer (5) in a machinist vise and remove nozzles.
3.   To install the nozzle (6) in the piston oil sprayer (5), if removed at disassembly, stake nozzles on three flats (7) at
120 degrees apart.
Figure 8
5
6
7
7
6