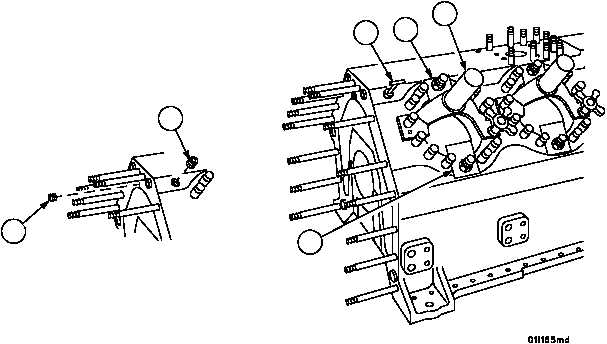 TM 9--2815--247--34
LUBRICATING NOZZLE ASSEMBLY REPAIR -- CONTINUED
0071 00
Adjust -- Continued
6.   Install four crankcase protectors (4). Refer to WP 0059 00.
CAUTION
After completing the re--aiming procedure, the improvised
tool that blocks oil passage to the fan towers must be re-
moved and replaced by the engine pipe plug to prevent
severe damage to the engine. Failure to comply may re-
sult in premature failure.
7.   Remove improvised tool (11) and install pipe plug (10).
8.   Remove oil supply and install pipe plug (12).
9.   Remove target fixture (13).
Figure 74
11
13
10
4
4
12
NOTE
FOLLOW--ON MAINTENANCE:
Install crankshaft (WP 0064 00)
Install piston and cylinder head assembly (WP 0059 00)
END OF TASK
0071 00--5/6 blank