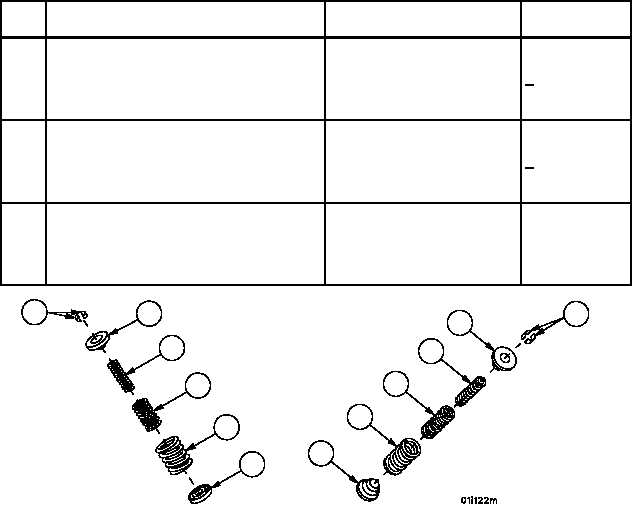 TM 9--2815--247--34
0072 00--3
VALVES AND ASSOCIATED PARTS REPAIR -- CONTINUED
0072 00
Inspection -- Continued
NOTE
Valves may be made serviceable by grinding.
6.   Inspect inner spring (5), intermediate spring (6), and outer spring (7) for wear, cracks, set, or other evidence of
failure. Replace springs when worn, cracked, or otherwise damaged.
7.   Measure springs (5, 6, and 7) using a valve spring tester. Replace springs that do not meet the following limits.
8.   Inspect lock retainer (11), seat (12), and seat (9) for wear and cracks. Replace if worn or cracked.
9.   Check rotor (10) by rotating inner section and inspect for wear or cracks. Replace rotor if inner section does not
rotate freely or is worn or cracked.
10. Inspect spring retainer locks (8) for wear or cracks. Worn locks will have ridges on top face. Replace locks that
are worn or cracked.
REF.
NO.
POINT OF MEASUREMENT
SIZES AND FITS OF NEW
PARTS pounds (Kg)
WEAR LIMITS
5
INNER VALVE COMPRESSION SPRING
(SMALL)
Scale reading at 1.3--inch (33.020) length
Scale reading at 2.07--inch (52.578) length
Maximum solid height
43.9 (19.9306)
26.2 (11.8948)
1.28 inch (32.512 mm)
+4.39 (1.9930)
+

1.31 (0.5947)
none
6
INTERMEDIATE VALVE COMPRESSION
SPRING (MEDIUM)
Scale reading at 1.56--inch (39.624) length
Scale reading at 2.26--inch (57.404) length
Maximum solid height
1.4 (0.6356)
51.7 (23.4718)
1.34 inch (34.036 mm)
+8.14 (3.6995)
+

2.60 (1.1804)
none
7
OUTER VALVE COMPRESSION SPRING
(LARGE)
Scale reading at 1.56--inch (39.624) length
Scale reading at 2.26--inch (57.404) length
Maximum solid height
134.2 (60.9268)
85.4 (38.7716)
1.47 inch (37.338 mm)
+ 

13.42 (6.0926)
+

4.27 (1.9385)
none
Figure 9
8
11
5
6
7
12
7
6
5
9
8
10