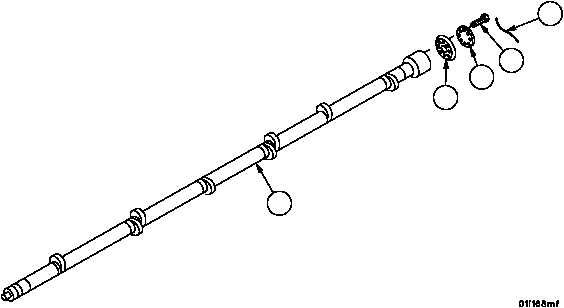 TM 9--2815--247--34
CAMSHAFT ASSEMBLY LEFT BANK REPAIR -- CONTINUED
0073 00
Assembly
1.   Place camshaft (6) in a soft--jawed vise.
2.   Lubricate eight screws (3).
CAUTION
Bevel gear and cover must be properly aligned with cam-
shaft before installing screws or camshaft will be dam-
aged. Two of the screw holes are slightly closer together
on each of the pieces. Properly align these screw holes
before installing screws.
3.   Install bevel gear (5) and cover (4) with eight screws (3).
4.   Torque alternately eight screws (3) to 23--27 lb--ft (31.188 -- 36.612 N

S

m).
5.   Secure with new lockwire (2).
Figure 10
2
3
4
5
6
NOTE
FOLLOW--ON MAINTENANCE:
Install camshaft, drive gears, and associated parts (WP
0076 00)
END OF TASK
0073 00--5/6 blank