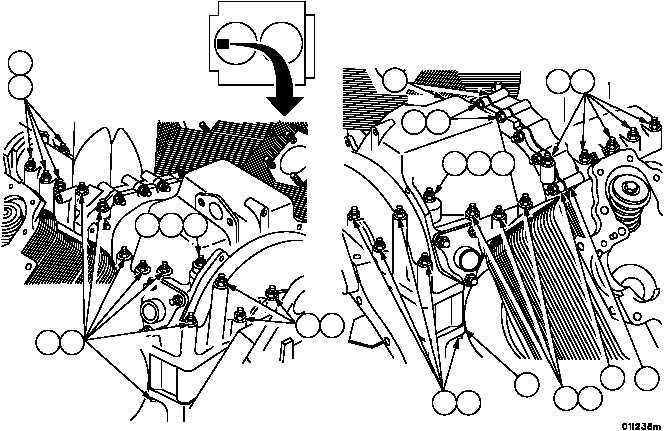 TM 9--2815--247--34
0085 00--2
ACCESSORY DRIVE HOUSING ASSEMBLY AND ASSOCIATED PARTS
REPAIR -- CONTINUED
0085 00
Removal
NOTE
One of the 29 self--locking nuts and flat washers would
have been removed from stud when fire extinguisher tube
was removed in equipment condition.
Two of the self--locking nuts are accessed from under-
neath the accessory base assembly.
1.   Remove 29 self--locking nuts (1), 29 flat washers (2), and two packings with retainers (3) attaching accessory
drive housing assembly (4) to accessory base assembly (5). Discard self--locking nuts and packings with retain-
ers.
2.   Remove two self--locking nuts (6) and two flat washers (7), from the top two studs between housing (8) and hous-
ing (9), to provide for attachment of sling assembly.
Figure 30
1
3
3
1
1
1
1
1
1
1
2
2
2
2
2
2
2
6
7
5
9
8
4
2