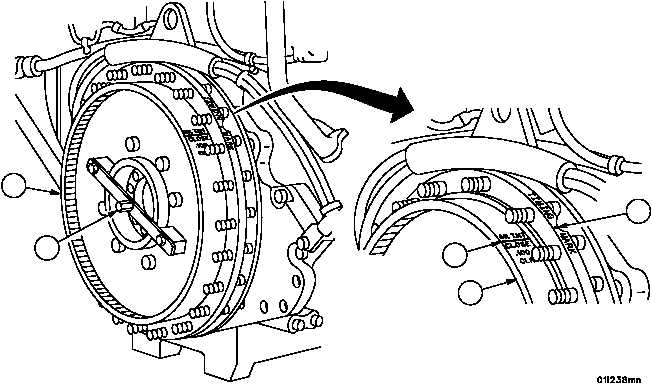 TM 9--2815--247--34
0085 00--17
ACCESSORY DRIVE HOUSING ASSEMBLY AND ASSOCIATED PARTS
REPAIR -- CONTINUED
0085 00
Adjustment
CAUTION
Camshaft timing is very critical. A mistake in timing the
camshafts can cause a catastrophic engine failure.
NOTE
The timing sequence begins with timing the right bank
camshaft, then the left bank camshaft, then the injection
pump.
1.   Install engine turning tool (65) on flywheel (66).
2.   Rotate flywheel (66) counterclockwise until engine timing mark (67) lines up with "6R INT. CLOSE .100 CLR" tim-
ing mark (68) on the flywheel (66).
Figure F--1
65
66
68
66
67