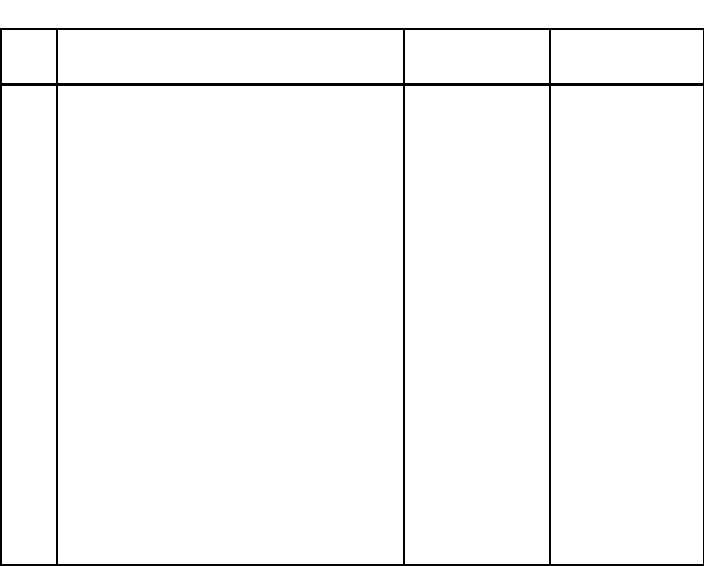 TM 9--2815--247--34
0103 00--1
TOOL IDENTIFICATION LIST
0103 00
SCOPE
This work package is a cross--reference of item numbers and is included for that purpose only. Common tools are
authorized in the supply catalogs listed in the "Reference" column. Special tools are also cross--referenced and the
specific publication number is listed in the "Reference" column.
EXPLANATION OF COLUMNS
Column (1) -- Item number.  

This number is assigned to the entry in the listing for cross--referencing to the stock
number.
Column (2) -- Description.  

This column matches tool nomenclature to the task nomenclature.
Column (3) -- NSN

. This is the national stock number assigned to the tool.
Column (4) -- Reference.  

This column lists the supply catalog or publication number that contains complete de-
scription for the referenced tools.
(1)
Item
No.
(2)
Description
(3)
NSN
(4)
Reference
1
Adapter, Mechanical 7082204 (P/N 8375091)
5120--00--837--5091
TM 9--2815--247--34P
2
Arbor Press
3444--00--449--7295
SC 4910--95--CL--A31
3
Blade, Thickness Gauge (P/N 10882615)
5210--00--793--7898
TM 9--2815--247--34P
4
Blade, Thickness Gauge (P/N 10882616)
5210--00--793--7899
TM 9--2815--247--34P
5
Blade, Thickness Gauge (P/N 10882617)
5210--00--793--7897
TM 9--2815--247--34P
6
Bolt, Eye (P/N MS51937--7)
5306--00--017--6143
TM 9--2815--247--34P
7
Bushing, Reamer Pilot (P/N 11642088)
5110--00--460--5831
TM 9--2815--247--34P
8
Bushing, Reamer Pilot (P/N 11642089)
5110--00--003--1010
TM 9--2815--247--34P
9
Caliper Set, Micrometer, Outside
5210--00--554--7134
SC 4910--95--CL--A63
10
Caliper Set, Micrometer, Inside
5210--00--221--1921
SC 4910--95--CL--A63
11
Crowfoot Attachment (P/N FRH--240S)
5120--01--335--1152
TM 9--2815--247--34P
12
Cutter, Carbon, Nozzle (P/N 10882949)
4910--00--795--7958
TM 9--2815--247--34P
13
Drill, 1/8--inch
5133--00--227--9650
SC 4910--95--CL--A72
14
Hoisting Beam (P/N 12366100)
3940--01--440--0283
TM 9--2815--247--34P
15
Fuel Injection Advance Test Stand (P/N 10898928)
4910--00--986--9873
TM 9--2815--247--34P
16
Gauge Set, Telescoping
5210--00--473--9350
SC 4910--95--CL--A63
17
Gauge, Ring, Plain (P/N 10912589)
5220--00--988--8774
TM 9--2815--247--34P
18
Puller Kit, Mechanical
5120--00--313--9496
SC 4910--95--CL--A31
19
General Mechanic's Tool Kit
5180--00--177--7033
SC 5180--90--CL--N26
20
Generator Coupling Tool (P/N 11684153)
5180--01--005--2995
TM 9--2815--247--34P
21
Generator Holding Tool (P/N 11684166)
5120--01--005--2996
TM 9--2815--247--34P
22
Indicator, Dial
5210--00--277--8840
SC 4910--95--CL--A63
23
Jack Screw, Hand (P/N 8708361)
5120--00--575--7767
TM 9--2815--247--34P
24
Magnifying Glass
6650--00--346--9106
SC 4933--95--CL--A12
25
Maintenance Stand (P/N 10912260)
4910--00--856--4137
TM 9--2815--247--34P
26
Pneumatic Tire Valve Repair Tool
5120--00--308--3809
SC 4910--95--CL--A72
27
Puller Assembly, Slide Hammer (P/N 8708712)
5120--00--310--4668
TM 9--2815--247--34P
28
Puller, Exhaust Valve Guide (P/N 10882954)
5120--00--448--0401
TM 9--2815--247--34P