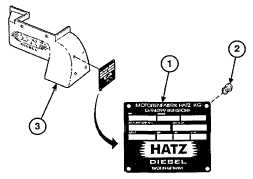 TM 9-2815-250-24&P
Section IV.  UNIT MAINTENANCE PROCEDURES
Paragraph
Page
Number
Paragraph Title
Number
2-15
Identification Plate Replacement........................................................................................... 2-7
2-16
Eye Bolt Replacement.......................................................................................................... 2-8
2-17
Rocker Arm  Cover and O-ring Replacement ......................................................................... 2-9
2-18
Filler Opening Cap Replacement .......................................................................................... 2-10
2-19
Oil Tube Assemblies Replacement  ....................................................................................... 2-11
2-20
Filter Element Replacement  ................................................................................................. 2-13
2-21
Intake Manifold Replacement  ............................................................................................... 2-15
2-22
Valve Vent Repair................................................................................................................ 2-18
2-23
Fuel Pressure Pipe Assemblies and Return Fuel Hose Replacement ...................................... 2-20
2-24
Airflow Deflectors Replacement ............................................................................................ 2-24
2-25
Oil Switch Replacement ....................................................................................................... 2-28
2-26
Thermostatic Switch Replacement ........................................................................................ 2-29
2-27
Solenoid Replacement and Adjustment ................................................................................. 2-30
2-15.
IDENTIFICATION PLATE REPLACEMENT.
This Task Covers:
a.   Removal
b.  Installation
Initial Setup:
Tools/Test Equipment:
Materials/Parts:
Blind hand riveter (Item 2, Appendix G)
Blind rivet (4) (Item 12, Appendix F)
Cable assembly (Item 3, Appendix G)
Drill set (Item 10, Appendix G)
Equipment Conditions:
Electric drill (Item 11, Appendix G)
Airflow deflector removed from engine (para 2-24,
General mechanic's tool kit, automotive
removal steps 1-3).
(Item 15, Appendix G)
a.
REMOVAL
Remove  four  rivets  (2)  and  identification  plate  (1)  from
airflow deflector (3).
b.
INSTALLATION
Install  identification  plate  (1)  on  airflow  deflector  (3)  and
secure with four rivets (2).
FOLLOW-ON TASKS:
Install    airflow    deflector    on    engine    (para    2-24,
installation steps 11-13).
2-7