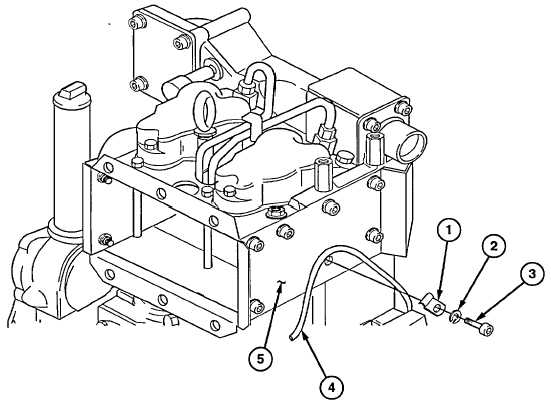 TM 9-2815-250-24&P
2-23.  FUEL PRESSURE PIPE ASSEMBLIES AND RETURN FUEL HOSE REPLACEMENT.
This Task Covers:
a.  Removal
b.  Installation
Initial Setup:
Tools/Test Equipment:
Materials/Parts:
General mechanic's tool kit (Item 14,
Gasket (2) (Item 19, Appendix F)
Appendix G)
Gasket (4) (Item 40, Appendix F)
Torque wrench, 1/2-inch drive (Item 31,
Spring tension washer (Item 31, Appendix F)
Appendix G)
Washer (2) (Item 18, Appendix F)
Wrench (Item 36, Appendix G)
a.
REMOVAL
1.
Remove  screw  (3),  spring  tension  washer  (2),  and  clamp  (1)  from  return  fuel  hose  (4)  and  air  duct  bracket  (5).
Discard spring tension washer.
NOTE
Fuel pressure pipe nuts will stay on fuel pressure pipe assemblies when they are removed.
2.
Loosen two fuel pressure pipe nuts on each of two fuel pressure pipe assemblies (9 and 12).
2-20