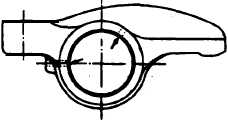 ARMY TM 9-2815-254-24
AIR  FORCE  TO  3861-94-2
Compressed  air  used  for  cleaning  can  create  airborne  particles  that
may enter the eyes. Pressure will not exceed 30 psig (207 kPa). Eye
protection  required.
e.
Check that rocker arm oil ports (two) are free of obstructions. refer to FIGURE 3-56. Use compressed air if
necessary to clean oil ports.
FIGURE   3-56.   Rocker   Arm   Oil   Ports,   Location   of
f. Inspect rocker arm valve stem contact surface for step wear and storing.  If contact services have light step
wear or scoring, they may be honed with oil stone. If step wear or scoring is severe, rocker arm must be
replaced, refer to FIGURE 3-57.
3-26.4.  

Assembly

.
Compressed  air  used  for  cleaning  can  create  airborne  particles  that
may enter the eyes. Pressure will not exceed 30 psig (207 kPa). Eye
protection  required.
3-106