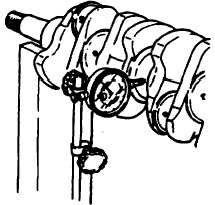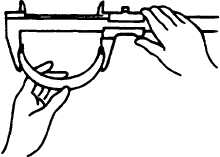 ARMY  TM  9-2815-254-24
AIR FORCE TO 38G1-94-2
(3)
(4)
(5)
Gently rotate crankshaft  in normal direction of rotation.
Read inside micrometer as you turn crankshaft. Standard run-out is 0.012 in. (0.03 mm) or less, with a
limit of 0.0024 in. (0.06 mm)
If measured run-out exceeds knit, replace crankshaft.
FIGURE  2-85.  Crankshaft  Run-out
d.  Use  a  vernier  caliper  to  measure  spead,  refer  to  FIGURE  3-86.  The  limit  for  bearing  spread  for  crank-
shaft bearings is 2.93 in. (74.5 mm) and 2.22 in. (56.5 mm) for connecting rod bearing.
FIGURE   3-86.   Bearing   Spread   Measurement
3-136