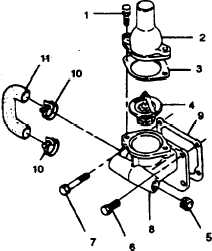 ARMY  TM  9-2815-254-24.
AIR FORCE TO 38G1-94-2
SECTION  IV.  COOLING  SYSTEM  MAINTENANCE
3-5.   

GENERAL

.
This  section  provides  maintenance  for  cooling  system  components.  Components  of  cooling  system  not  men-
tioned in this section can be found in the end item maintenance manual.
3-6.
THEMOSTAT
AND
HOUSING
.
If  the  engine  has  been  operating  and  coolant  is  hot,  allow  engine  to  cool
before  you  slowly  loosen  filler  cap  and  relieve  pressure  from  cooling
system. Failure to observe this warning could result in severe personal
injury.
3-6.1.
Removal
a.
Drain coolant system if not already drained. Refer to end item maintenance manual.
b.
If not already done, loosen hose clamp and disconnect outlet hose from outlet pipe (2, FIGURE 3-1).
FIGURE  3-1.  Thermostat  and  Housing
3-16