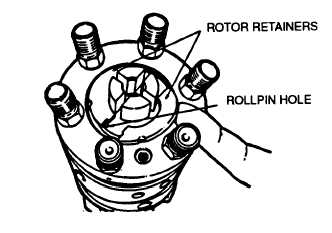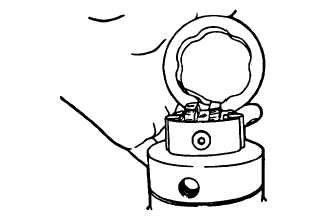 ARMY TM 9-2815-255-24
AIR FORCE TO 38G1-95-2
MARINE CORPS TM 2815-24/4
FIGURE 3-65.  Removing Rotor Retainers (Typical)
CAUTION
Do not handle precision ground surface of rotor to avoid damage.
ao.
Lift hydraulic head (17, FIGURE 3-52) off rotor and remove cam ring (24), refer to FIGURE 3-66.
FIGURE 3-66.  Removing Cam Ring (Typical)
CAUTION
Maintaining existing relationship of rotor parts is essential to proper operation of the pump.  Do
not disassemble rotor assembly any further than specifically directed.
ap.
Remove leaf spring adjusting screws (25, FIGURE 3-52) and leaf springs (26), refer to FIGURE 3-67.
3-95