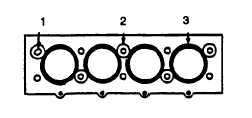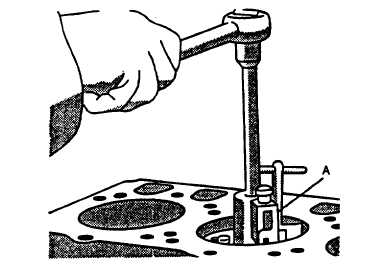 ARMY TM 9-2815-255-24
AIR FORCE TO 38G1-95-2
MARINE CORPS TM 2815-24/4
FIGURE 3-121.  Fastening Cylinder Liners
CAUTION
Do not rotate crankshaft with cylinder head removed unless liners are bolted down.  Bolt liners
down before removing pistons.
CAUTION
Capscrews  and  washers  must  be  tightened  to  the  above  specification  to  achieve  an  accurate
reading when checking liner height above block.
g.
Remove  carbon  from  liner  bore  with  a  scraper  or  reamer,  refer  to  FIGURE  3-122.    Use  compressed  air  to
remove loose material from cylinders.
FIGURE 3-122.  Removing Carbon From Cylinder Liner
h.
Before removing pistons, visually inspect condition of cylinder liners with pistons at bottom dead center (BDC).
Liners will require replacement if:
(1)
The crosshatch honing pattern is not visible immediately below the top ring turn around area.
(2)
Liners are pitted or contain deep vertical scratches that can be detected by the fingernail.
(3)
No further inspection is required if any one of the above conditions are found.
i.
Remove oil pan, refer to paragraph 3-20.1.
j.
Remove oil pump and outlet tube, refer to paragraph 3-21.1.
3-183