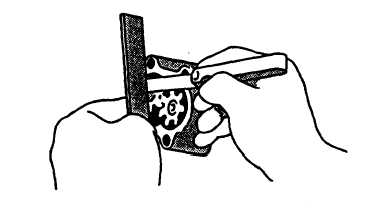 ARMY TM 9-2815-255-24
AIR FORCE TO 38G1-95-2
MARINE CORPS TM 2815-24/4
c.
Remove outlet tube (3) and preformed packing (4).
d.
Remove two bolts (5) and flatwashers (6).  Remove oil pump intake tube (7).  Remove and discard preformed
packing (8).
e.
Remove two bolts (9), flatwashers (10), and oil pump (11).
3-21.2.  

Inspect

And

Measure

.
Warning
Cleaning solvent Is flammable and toxic to eyes, skin, and respiratory tract.  Skin/eye protection
required.  Avoid repeated/prolonged contact Good general ventilation Is normally adequate.
Warning
Compressed air used for cleaning can create airborne particles that may enter the eyes.  Pressure
will not exceed 30 psig (207 kPa).  Eye protection required.
a.
Clean all oil pump parts in dry cleaning solvent (P-D-680).  Dry with compressed air.
b.
Visually inspect all oil pump components for excessive wear.
c.
Inspect pump intake tube-to-flange weld for cracks.  If cracks or other defects are found, replace tube.
d.
Using straight edge and feeler gage, check axial clearance between gear and pump cover, refer to FIGURE 3-
36.    Clearance  standard  is  0.002  to  0.007  inch  (0.05  to  0.017  mm).    Maximum  permissible  axial  clearance  is
0.0085 inch (0.22 mm).
FIGURE 3-36.  Measuring Oil Pump Axial Clearance
e.
Using feeler gage, check radial clearance between gear and pump housing, refer to FIGURE 3-37.  Clearance
standard is 0.004 to 0.006 inch (0.10 to 0.16 mm).  Maximum permissible radial clearance is 0.008 inch (0.20
mm).
3-67