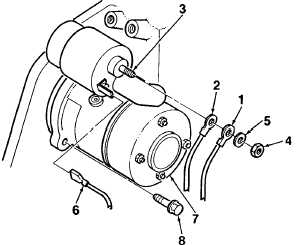 ARMY TM 9-2815-257-24
AIR FORCE TO 38G1-128-2
MARINE CORPS TM 10155A/2815-24/3
3-28
3-19.  STARTER MOTOR MAINTENANCE
This task covers removal, cleaning, inspection, and installation.
INITIAL SETUP
Tools:
Equipment Condition:
Tool Kit, Master Mechanic (Item 3, App. B, Sect. III)    
None
Parts/Materials:
Solvent, Dry Cleaning (Item 7, App. E)
Rag, Cleaning (Item 8, App. E)
A.    REMOVAL.
NOTE
Wiring shown in Figure 3-11 is for a typical
connection  configuration.    Connections  will
vary with application.
1.
Tag and disconnect electrical wires (1, 2, Figure
3-11)  from  connection  stud  (3)  by  removing  nut
(4) and washer (5).  Reinstall nut and washer to
prevent loss.
2.
Tag   and   disconnect   electrical   wire   (6)   from
starter solenoid lug.
3.
Remove starter motor (7) from cylinder block by
removing two screws (8).  
Figure 3-11.  Starter Motor Removal