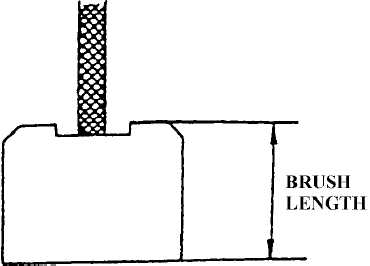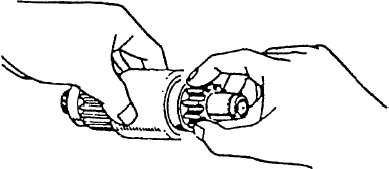 ARMY TM 9-2815-260-24
AIR FORCE TO 38G1-126-2
MARINE CORPS TM 09244A/09245A-24
4-31
(f)
Check field windings of yoke for wear or damage.  Check all connections for clean and
tight solder joints.
(g)
Measure brush length, refer to Figure 4-25.  If less than 0.51 inch (13 mm), replace brush
holder and/or yoke assembly.
FIGURE 4-25.  MEASURING BRUSH LENGTH
(h)
Check brush springs for damage or corrosion.  If damaged or corroded, replace brush
holder.
(i)
Check that all overrunning clutch rotates freely in direction of starter rotation and that it
will be locked when trying to rotate in opposite direction.  Refer to Figure 4-26 for
detailed view.
FIGURE 4-26.  CHECKING OVERRUNNING CLUTCH