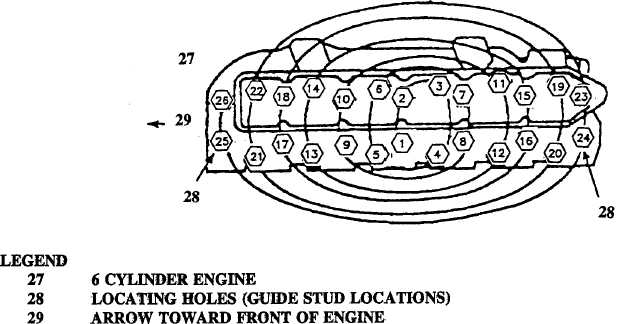 ARMY TM 9-2815-260-24
AIR FORCE TO 38G1-126-2
MARINE CORPS TM 09244A/09245A-24
4-79
(5)
Position new cylinder head gasket on cylinder block.  Do not use sealant; install dry.
CAUTION
O-Ring seals in head gasket can be damaged if head is repositioned while
resting on engine block.  Always use guide studs to position cylinder head
on block.  Failure to comply could result in cylinder head gasket failure.
(6)
Using adequate lifting device, position cylinder head over guide studs and carefully lower cylinder
head onto cylinder block.
NOTE
Prior to installing capscrews in cylinder block, dip entire capscrew in clean
engine oil.  Remove excess oil from capscrew.
(7)
Install several capscrews (1, Figure 4-49) finger tight.  Remove guide studs.  Install remaining
capscrews finger tight.
(8)
Tighten all capscrews (1) in sequence shown in Figure 4-52, beginning with No. 1, to 75 lb-ft (100
Nm).
(9)
Using the same sequence repeat step 8, this time tightening all capscrews (1) to 110 lb-ft (150
Nm).
FIGURE 4-52.  CYLINDER HEAD CAPSCREW TORQUE SEQUENCE