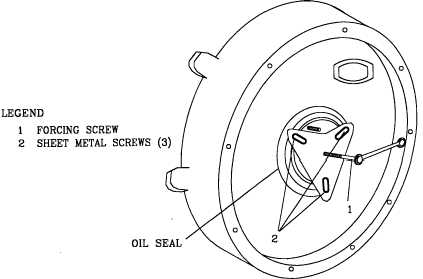 ARMY TM 9-2815-260-24
AIR FORCE TO 38G1-126-2
MARINE CORPS TM 09244A/09245A-24
4-84
4.8.2.   REAR CRANKSHAFT OIL SEAL/WEAR SLEEVE ASSEMBLY.
NOTE
The following procedures require complete access to the engine.  If
necessary, remove engine from generator set, refer to TM 9-6115-672-14.  
Mount engine on repair stand (NSN 4910-01-016-1835 or equal) as outlined
in paragraph 4.10.
a.     Removal.
(1)
Remove flywheel, refer to paragraph 4.8.1.
(2)
Adjust forcing screw (1, Figure 4-56) on Seal and Wear Sleeve Remover and position screw so
screw centers tool on crankshaft flange.
FIGURE 4-56.  REMOVAL OF REAR CRANKSHAFT OIL SEAL
CAUTION
Do not remove seal and wear sleeve assembly from plastic bag until
immediately before installing.  Failure to comply could result in dirt
contamination and premature seal failure.
(3)
Use slots in Seal and Wear Sleeve Remover as a template and mark three locations on seal casing
where screws should be installed for removal purposes.  Remove tool from crankshaft flange.