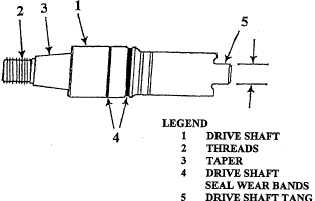 ARMY TM 9-2815-260-24
AIR FORCE TO 38G1-126-2
MARINE CORPS TM 09244A/09245A-24
5-18
(a)
Inspect fuel injection housing for cracks or signs of damage.
(b)
Inspect threaded holes for damage.
(c)
Inspect inside of fuel injection housing where hydraulic head seal contacts fuel injection
pump.  Inspect thrust bearing counterbore and area where cam ring rides.
(d)
Replace fuel injection housing as required.
CAUTION
Drive shaft is fragile and easily damaged.  Handle drive shaft with care.
(4)
Inspect drive shaft (1, Figure 5-17) as follows:
FIGURE 5-17.  DRIVE SHAFT.
NOTE
Drive shaft seal wear bands are normal and should not be reason for drive
shaft replacement.
(a)
Inspect threads (2, Figure 5-17) and taper (3) for damage.   
(b)
Inspect drive shaft (1) where drive shaft seals ride for nicks or scratches.
(c)
Measure drive shaft tang (5) width using outside diameter micrometer.  Drive shaft tang
width should be 0.430 in. (10.92 mm) minimum.  If drive shaft tang width is less than
specifications, replace drive shaft.
(d)
Replace drive shaft as required.