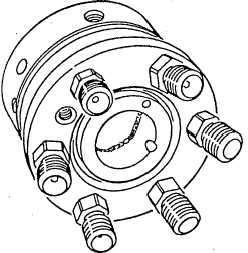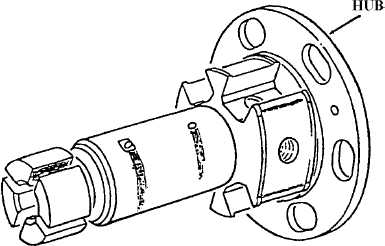 ARMY TM 9-2815-260-24
AIR FORCE TO 38G1-126-2
MARINE CORPS TM 09244A/09245A-24
5-20
FIGURE 5-19.  HYDRAULIC HEAD ASSEMBLY (TYPICAL)
(7)
Examine the Distributor Rotor Assembly.  Refer to Figure 5-20.
(a)
Examine the working areas of the distributor rotor including the transfer pump blade
slots, the discharge and charging ports, the plunger bores, the leaf spring contact area and
the drive slot.  Check for wear, erosion or damage.   
(b)
Examine the flat delivery valve seat in the rotor bore for chipping, erosion or damage.
(c)
Ensure the governor weight retainer is secure on the rotor.  If hub is loose, head and rotor
assembly must be replaced.
(d)
Replace the Distribution Rotor Assembly if found defective.
FIGURE 5-20.  DISTRIBUTOR ROTOR ASSEMBLY (TYPICAL)