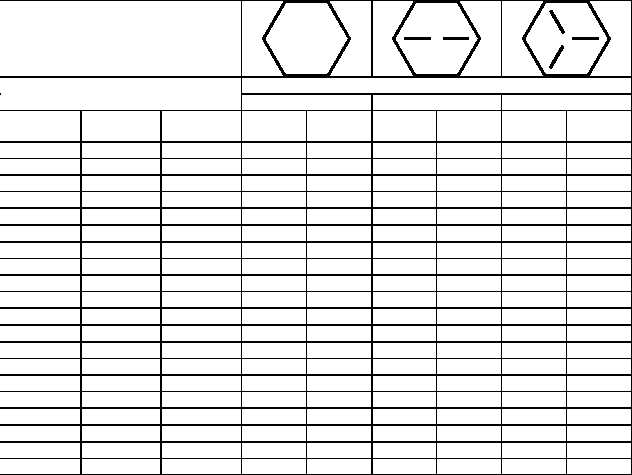 ARMY TM 9-2815-260-24
AIR FORCE TO 38G1-126-2
MARINE CORPS TM 09244A/09245A-24
G-1
APPENDIX G
TORQUE LIMITS
SECTION I. INTRODUCTION
G.1
SCOPE
.
Section II lists torque ratings for fasteners used on the engine.  When specific torque values called
out in the maintenance procedures, they supersede the values in this appendix.  Table G-1 lists
torque limits for standard fasteners installed dry.  Table G-2 provides formulas for converting the
dry torque values to wet.  Table G-3 lists torque limits for metric fasteners installed dry.
SECTION II.  TORQUE LIMITS
TABLE G-1.  TORQUE LIMITS FOR DRY FASTENERS
TORQUE
SIZE
SAE GRADE 0-1-2
SAE GRADE 3
SAE GRADE 5
Diameter in
Inches
Threads Per
Inch
Millimeters
Foot
Pounds
Newton
Meters
Foot
Pounds
Newton
Meters
Foot
Pounds
Newton
Meters
1/4
20
6.350
6
8
9
12
10
14
1/4
28
6.350
7
9
10
13
11
15
5/16
18
7.937
12
16
17
23
19
26
5/16
24
7.937
13
18
18
25
21
28
3/8
16
9.525
20
27
30
40
33
45
3/8
24
9.525
22
30
33
44
36
49
7/16
14
11.112
32
43
47
64
54
73
7/16
20
11.112
35
47
51
69
59
80
1/2
13
12.700
47
64
69
93
78
106
1/2
20
12.700
51
69
75
102
85
115
9/16
12
14.287
69
94
103
140
114
155
9/16
18
14.287
75
102
112
152
124
168
5/8
11
15.875
96
130
145
197
154
209
5/8
28
15.875
105
142
158
214
168
228
3/4
10
19.050
155
210
234
317
257
348
3/4
26
19.050
169
229
255
346
280
380
7/8
9
22.225
206
279
372
504
382
518
7/8
24
22.225
225
304
405
550
416
565
1
8
25.400
310
420
551
747
587
796
1
14
25.400
338
458
601
814
640
867