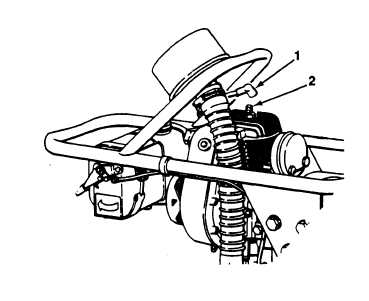 TM 5-3895-360-13
2-8.   CLEANING   AIR   CLEANER   FILTER
(VR11)  (Con't).
c. Clean filter pin (l), retainer (2), and filter housing (4)
with dry cleaning solvent (Item 16, Appendix E) and
allow to dry
d. Install filter pin (1) and filter (3) in filter housing (4)
with retainer (2).
2-9.
DISCONNECTING   AND   CONNECT-
ing  SPARK  PLUG.
NOTE
Refer to Figure 2-5, Dlsconnecting and Con-
necting  Spark  Plug.
Spark plug must be disconnected while per-
forming  any  maintenance  procedures.
DISCONNECTING  SPARK  PLUG
Remove terminal (1) from spark plug (2).
CONNECTING  SPARK  PLUG
Install terminal (1) on spark plug (2).
Figure  2-5.  Disconnecting  and
Connecting  Spark  Plug.
2-10.  DRAINING  AND  FILLING  FUEL  SYS-
TEM.
WARNING
DO NOT smoke when handling fuel contain-
ers or when located within 50 ft (15.3 m) of
fueling  or  fuel  storage  areas.  Failure  to  fol-
low this warning may cause a fire and explo-
sion,  resulting  In  serious  Injury  or  death  to
personnel.
DO NOT breathe fuel fumes. They are toxic
and can cause serious medical problems.
Failure  to  follow  this  warning  may  result  in
serious Injury or death to personnel.
Give IMMEDIATE medical attention to per-
sonnel exposed to hydrocarbon or toxic
vapors. Signs of distress are weakness, nau-
sea, coughing or intoxication, nosebleed or
cramps, or other unusual symptoms. Quali-
fied personnel able to administer artificial
respiration and simple first aid must be pres-
ent.
NOTE
Refer to Figure 2-6, Draining and Filling Fuel
System.
A suitable container should be used to catch
any draining fuel. Ensure that all spills  are
properly  cleaned.
DRAINING  FUEL  SYSTEM
a. Close fuel valve (3).
b. Remove fuel tank cap (1) from fuel tank (2).
c. Slide clamp (4) back on fuel line (5) and remove fuel
line from fuel valve (3).
2-6